This is no ordinary ladder, by the way. Let us explain this for you. This is a uniquely designed and manufactured emergency escape ladder that is going to get you and your family out of some dangerous scrapes in the nick of time. Logically speaking, you won't have a need for this versatile and portable ladder if your home is single-storied. But what if you have a basement area. What if, at some stage, during a perfect storm, this space suddenly starts to flood?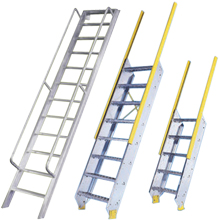 You might be using this below ground level area as your study or man cave. With this ladder, you are in a strong position to rescue some valuable items before the entire area is completely flooded. Don't worry about weight because this ladder is capable of managing weights over a thousand pounds. You could rescue your hard drive while someone supports you and your ladder at the top of the basement's stairs. That's just one emergency scenario.
Another more hair-raising scenario should remind you that your life is more precious than your most valuable items. You and your family need to get out of the scrape first. This is especially the case if you are living on the sixth floor of an apartment complex. By the time a fire does break out in the middle of the night, the building's regular fire escape routes could be temporarily blocked. Rather than place yourself in further danger while waiting for this route to clear or for emergency rescue services to scale the walls of your apartment, you could let down the lightweight portable ladder from your bedroom window.
It is able to manage a steep window sill ledge. It is not cumbersome and it can save lives.